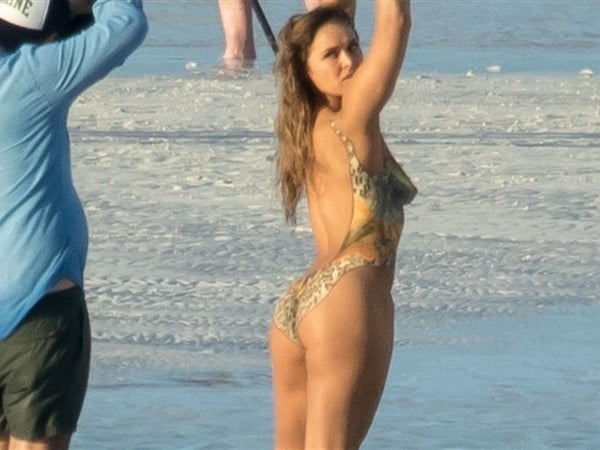 ---
Former UFC champion Ronda Rousey shows off her squat and sturdy frame in body paint in the new behind-the-scenes candid beach pics below from her upcoming spread in the Sports Illustrated swimsuit issue.
After seeing these photos of Ronda's meaty thighs, powerful rump, and small asexual titties, it is clear that she is the ideal woman and any red-blooded Muslim male would be proud to have her chained up in his barn.
Yes with such impressive hindquarters and no shameful breast meat to weigh her down, Ronda Rousey is built for pulling the plow. In fact, my righteous meat scud has grown rigid and is ready launch forth from my tunic at just the thought of Ronda tilling my poppy fields, for I'd be able to increase my opium yield exponentially with Ronda at my disposal. Of course Ronda would have to be properly trained as she is quite a disobedient and mouthy woman. However, the soreness to my whipping wrist and redness on the backs of my hands would certainly be worth it, because it is clear from these pics that Ronda's upside is very high.